4 Day Fall Foliage Itinerary
4 DAY FALL FOLIAGE ITINERARY
Experience the beauty of the Northeast at the prettiest time of the year.
When my wife told me that for her birthday, she wanted to take a fall foliage trip to the Northeast, my first reaction was:
"WHAT ARE WE, 70?"
After my surprise wore off and I actually looked into it, I realized that the Northeast looks really beautiful in the fall. And I learned that age old marriage lesson: your wife is always right.
FOUR DAYS IN THE NORTHEAST
First of all, let me say that this is a HUGE area. As with most trips, you could spend a lot longer than four days driving around this area "leaf peeping" as those in the know call it. This trip also naturally ends up with a lot of driving. So much of the joy of experiencing this part of the country at this time of the year is driving through long highways of endlessly bright colored leafs, enjoying what a treat it is that we have this particularly strange temporary death process of our leaves.
Rather than charting out a specific itinerary, I think it's easier to just give some of the drives we made and the places we really loved. We flew into Manchester, New Hampshire and out of Portland, Maine on Southwest. Flying Southwest makes it really easy to travel through the area without having to backtrack a lot, because you don't have to fly in and out of the same place. We stayed in Manchester, NH; Portland, ME; and Bar Harbor, ME.
BEST TIMES TO GO:
One of the hardest parts about a trip like this is trying to time when you should go for the best leaf changing experience. I'm no expert on the science or even when you should go, so I'm not going to pretend to be. What I do know is that the peak times change from year to year depending on the weather leading up to the season, and that there are a million websites out there that have Fall Foliage trackers and predictors for the year. We went in the middle of October and felt like we were a little past peak. The later you go in the season, the more risk you have of being past-peak obviously, but you also have a chance to have your trip fall at the perfect time where the leaves are vibrant everywhere. As a rule of thumb, I think you can either be safe and go earlier, and know you won't miss the leaves, or be risky and go later, knowing some places you go through might be past-peak and others will be vibrantly alive with color. I don't think you can necessarily go wrong, but I would take a look at some of the websites and resources out there to help you plan your trip. My wife subscribed to a newsletter that gave weekly reports, and she would forward them to me every week to get me hyped.
STOWE, VERMONT: HIGHWAY 100 & 108
We arrived on my wife's birthday, and I told her we could go wherever she wanted, no matter how far away it was or how inconvenient the destination might be. She chose Stowe, Vermont. I guess I should just be glad she didn't pick somewhere in Canada.
I was so glad she picked this place though. The drive was the most beautiful of any of the drives we made. We went through all sorts of fun little towns, and Stowe itself has a really scenic church in their downtown area that people take a lot of pictures of. We also drove through Montpelier, which is probably meaningless to most people unless you're a big fan of saying that you have been to US State Capitols.
Our specific route was Highway 100 north until you pass through Stowe, and then we took Highway 108 up to Smugglers Notch. The area past Stowe has some cool rocky cliffs and windy roads that make for great pictures. We hit this specific area a little past peak, but it was a cool, misty foggy day so that made the drive feel kind of mysterious.
NOTABLE NON-LEAF ATTRACTION:
Ben & Jerry's Factory and Headquarters
I had no idea that Ben & Jerry's was headquarted in Northern Vermont until we drove through the town and saw the building. Naturally, we stopped for some ice cream. It's in Waterbury, VT about 15 minutes away from Stowe.
WHITE MOUNTAIN NATIONAL FOREST: HIGHWAY 112
We took this scenic drive on our way up to Maine. One of the most famous drives on the Northeast is highway 112 that runs from Lincoln, NH to Conway, NH through the White Mountain National Forest. We caught this one at a litte past peak, but the sheer variety of colors was brilliant as we drove through. We took a couple of hikes off the path (not any so notable that I could remember the names) and took our time as we drove through this stretch of road.
This drive was all about the experience and not about any specific destination along the way. You can just enjoy the leaves as they pass by, which makes for an easy experience.
NOTABLE NON-LEAF ATTRACTION
Boston
If you fly into Manchester and are using it as your home base and are looking for an evening excursion, it's an easy drive down to Boston. We had a little extra time one day and took a quick jump down there to see a couple of the sights and have dinner. We had been to Boston before, so we had already experienced the Freedom Trail and other great history things. But on this day, we strung together a walk through the Harvard campus (great during the fall!), a stroll around Fenway Park, and dinner at a restaurant called the Parish Street Cafe, which was great. It's also an easy way to tack on another state if, like my wife, you're obsessed with trying to get to all 50.
This one required some driving to get to, but thankfully our flight left out of Portland, ME, so we didn't have to backtrack all the way to New Hampshire.
Acadia was the gem of the trip. It really is one of the coolest National Parks in the US, and it's a shame that more people don't visit it. I'm actually heading back there this fall, and I can't wait to get to have more time to explore such a beautiful area.
We got around to more specific scenic areas in Acadia, so here's a listing of some of our favorites:
We caught this place at the very tail end of sunset as we drove into Acadia. Such a beautiful lake, and seeing it surrounded by trees with the reflection of the color on the water was a memorable sight.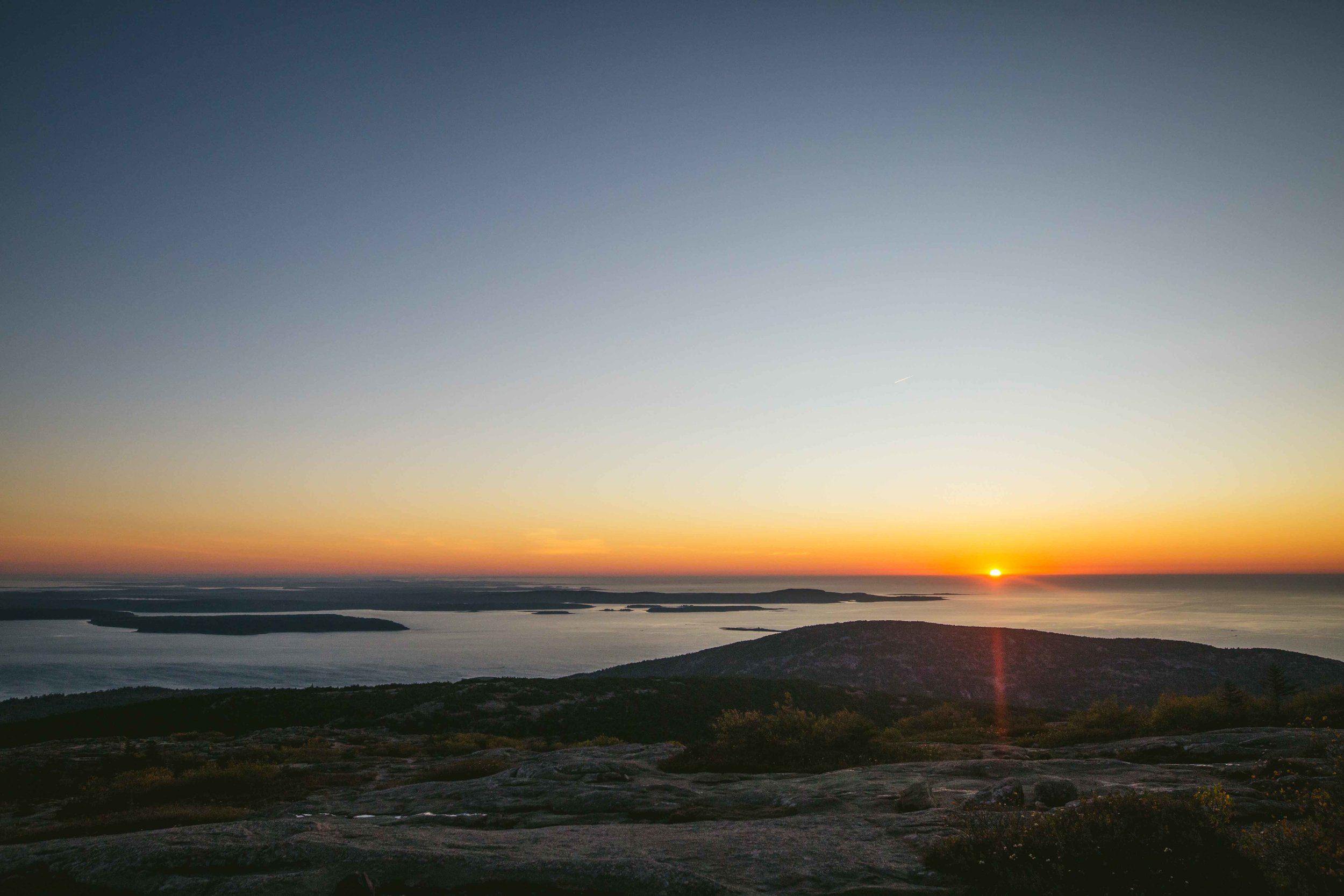 This is the highest point on the eastern seaboard, so it's the first place you can see the sunrise in the entire United States. This is a cool experience, but trust me, you aren't the only one who thinks it would be cool to see the sunrise first. By first, I actually mean, "tied for first with 100 other people". Worth the experience to get up early and make the trek up there (you can drive, it was really windy and cold on the morning we went), but prepare for the crowds.
My favorite hike we did in Acadia. Not for the faint of heart or for those afraid of heights. There are some places where it is actually pretty exposed, but for me that made the hike fun. You do some actual climbing on latters and other things they have to help you up the trail, and you have incredible view of the leaves and the ocean the entire time. The hike itself was fairly strenuous, but definitely worth the effort.
If you're down to drive and willing to enjoy the slow pace of exploring a different kind of beauty, fall in the Northeast is the trip for you.
Cory